Gunjan Saxena Controversy: Women's Commission chairperson Rekha Sharma said - Gunjan Saxena's trial should be stopped. The controversy has surfaced with the filming of Jahnavi Kapoor and Pankaj Tripathi's film 'Gunjan Saxena: The Girl of Kargis' has been released on Netflix. The Indian Air Force has challenged other scenes in the film. In line with this, he complains to the Censor Board for showing a negative image of the Air on air in the film. Now a statement from Rekha Sharma, Chairperson of the National Women's Commission has also come out. He also said that women are not discriminated against in the armed forces.
Rekha Sharma not only gave a statement about the women but also demanded that the film screenings be stopped. Rekha wrote to Touch on Friday, 'The real Gunjan Saxena should come forward and clarify whether the sexism identified in the film is right? Coming from the military, I would never have thought that the defense officers were treated like goons. Whether official or not, women have always been respected in power.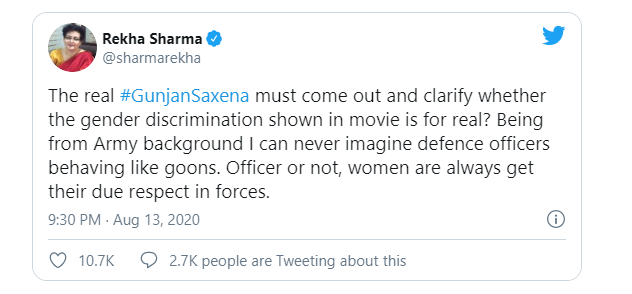 Meanwhile, in another tweet, Rekha Sharma shared a screenshot, in which Gunjan Saxena's statement said he was treated well. Rekha wrote, 'In that case, the filmmaker should apologize and stop the testing. Why did he expose himself, claiming that his power was evil if it was true?

Let me tell you that before the release of the Netflix film Gunjan Saxena, Solezwe raised objections to the review board. The Air Force says the film shows the soldiers badly. While Dharma Productions promised before its release that it would take the reins of Sena. Significantly, the film is directed by Sharan Sharma. At the same time, Karin Johar produced the film.
📣 Bgs Raw is now on Telegram. Get the more different latest news & stories updates, subscribe to us on Telegram & WhatsApp ... (Click here to stay updated)