Bigg Boss 14: Fans trend 'Bring Back Nikki' and 'Rahul Vaidya Matters' after their shocking eliminations
Bigg Boss 14: Fans trend 'Bring Back Nikki' and 'Rahul Vaidya Matters' after their shocking eliminations
Ever since the news of Nikki Tamboli and Rahul Vaidya's elimination from Bigg Boss 14 has surfaced, fans have been raising their voice against that they call 'unfair evictions'. To express their disagreement with the makers of Bigg Boss 14, fans have started trending 'Bring back Nikki' and 'Rahul Vaidya matter' after their shocking eliminations.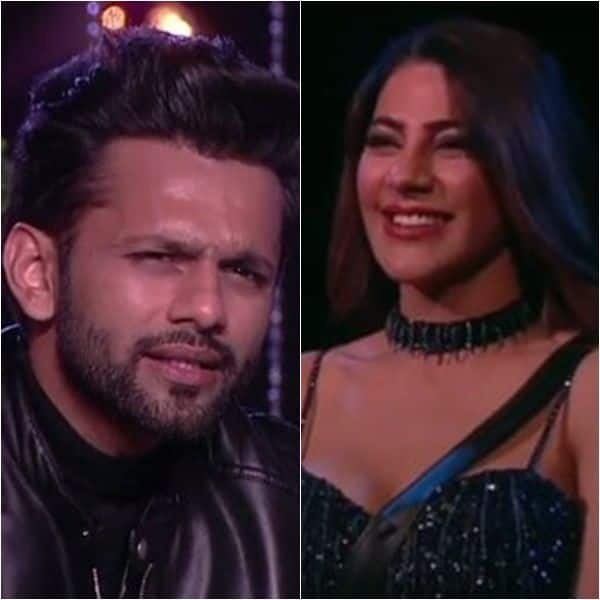 Nikki Tamboli's elimination from the show was undoubtedly the most unexpected moment for her fans. On the Weekend Ka Vaar Finale episode, she kept crying incessantly when Salman Khan told her that her stint in the Bigg Boss 14 house has finally come to an end. Even Rahul Vaidya and Eijaz Khan couldn't hold their tears as they hugged it out for the last time before Nikki walked out from the main door.
Her fans were left disheartened to see their favourite contestant leaving the show. They began trending 'Nikki is our winner' on Twitter to appreciate her performance in the house. As a matter of fact, all the housemates didn't anticipate her elimination.
On the other hand, When Salman Khan took things in his hands, he asked Rahul why he was not showing the spirit to win the show and emerge as a finalist. He interrogated Rahul who accepted that he was very disappointed. Nikki too said that Rahul's performance was not up to the mark.
Salman is seen asking Rahul to leave the show as he didn't perform in the last task, and was not even motivated to be part of it. When Salman asks Rahul: "'Rahul, itni ichchha nahi ab rehne ki (don't you have the slightest desire to stay in the show)?", he replied, "yes". Salman then pointed out Rahul's "lack of enthusiasm and lack of interest towards the show".
At that point, Rahul is seen saying that he would like to elaborate the reason for his disinterest, to which Salman replied, "Iski zaroorat nahi hai (no need). Please leave Rahul." And Rahul makes a voluntary exit from the show.
Both eliminations have not gone down well with their fans who are now seen making efforts to bring Nikki and Rahul back on Bigg Boss 14.
I hope this pain doesn't turn into tears

Instead it should into fire

Yes we believe in you champ

RAHUL VAIDYA MATTERS pic.twitter.com/jWMXH4RygL

Ujjwal Chaudhary (@UjjwalC35754643) December 6, 2020
These pictures just broke my heart :((( @ColorsTV

You deserve much better @rahulvaidya23 Your RKVians love you sm <3

For us only RAHUL VAIDYA MATTERS pic.twitter.com/7DlMnMXqlu

NO RAHUL NO BB14 (@L_u_e_u_r) December 6, 2020
Rahul, Rahul, Rahul !!

This is what's happening both inside and outside the house. Love , love and only love for you @rahulvaidya23.

RAHUL VAIDYA MATTERS pic.twitter.com/6JiTbaBuHJ

gloriousmess ~ Team RKV ? (@gloriousmess18) December 6, 2020
Her eviction was so unfair. She has performed all tasks with full dedication & determination. She deserves to be in finale. Her passion for the game was phenomenal. She's more deserving than rest.

Please BRING BACK NIKKI or we'll stop watching @biggboss.@ColorsTV @nikkitamboli pic.twitter.com/5dxs9nuaBi

Nikki Tamboli Fc ? (@NikkiTamboli_FC) December 6, 2020
I want all the #RubinaDilaik Fans to pls make an alliance right so that nikki comeback in the show so the competition level bacome high and our queen rubina also said that she is a winner for me

BRING BACK NIKKI pic.twitter.com/e2soeI4ob1

Rubina Dilaik (@RubinaDilaikk_) December 6, 2020
BRING BACK NIKKI

She deserves going ahead!! She is the reason for TRP that @BiggBoss had so far!!!@ColorsTV @OrmaxMedia pic.twitter.com/GBxrcIVs8F

BRING BACK NIKKI? (@nikkitmboli) December 6, 2020
On tonight's Weekend Ka Vaar Finale episode of Bigg Boss 14, the 5 Challengers, led by Mastermind Vikas Gupta are all set to enter the house. Vikas will be leading a team of Rakhi Sawant, Kashmira Shah, Manu Punjabi, Arshi Khan and Rahul Mahajan who will pose a challenge to the remaining contestants.
📣 Bgs Raw is now on Telegram. Get the more latest news & stories updates, subscribe to us on Telegram & WhatsApp ...
Source: Bollywood Life