Bigg Boss 14: From Rakhi Sawant's 'Yeh Saandhni' to Rubina Dilaik's 'Apki Soch' - 5 epic dialogues of the season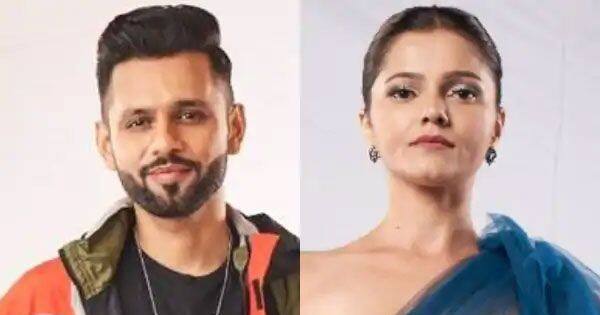 Bigg Boss 14 was truly hugely different from every other season. We had people exiting and entering the show like never before. With a number of people coming in, contestants had access to a lot of information. One thing that people cannot deny is how the presence of Challengers lived up the dull season. Rakhi Sawant, Arshi Khan and Vikas Gupta added a lot of spice. Here is a look at five epic dialogues of the season...
Rakhi Sawant's Kya Yeh Saandhni Thi for Arshi Khan
This has to be the most famous dialogue of the season. Rakhi Sawant was the Entertainment Queen of the season that was rather drab in the first half. Rakhi Sawant went on a rant after someone threw her water bottle in the pool. Angrily, she asked Kya Yeh Saandhni Thi and it was picked up by Yashraj Mukhate of Rasode Main Kaun Tha fame.
Rahul Vaidya's 'Will you marry me?' for Disha Parmar
Bigg Boss 14 contestant Rahul Vaidya gave one of the most romantic moments of Bigg Boss history when he asked Disha Parmar if he would marry her on the show. On the occasion of Disha Parmar's birthday, he went down on his knees and said being in the house taught him the value of his relations. He said he wondered what took him so long to ask Disha Parmar who has been a source of strength for him for two years.
Jasmin Bhasin's 30 Saalmein Aayi Hun Seena Thok Ke Bolti Hun 45 Saal Mein Aaye Ho Nakli Banke Ghoomte Ho for Eijaz Khan
Jasmin Bhasin had a rather eventful stay inside the Bigg Boss 14 house. She has had crazy fights with Eijaz Khan, Rahul Vaidya and Rakhi Sawant. The lady said this statement after her nasty spat with Eijaz Khan where she accused him of being fake. He called her pretentious saying she behaved like a baby at times just for the cameras.
Rahul Vaidya trolling Rubina Dilaik by saying, 'Yeh Chutni Nahi Hai Rocket Rubina Ka Dheela Hai Socket'
Rahul Vaidya has given us maximum one-liners and dialogues this season. The Indian Idol singer made people laugh and chuckle all through the show.
Rubina Dilaik's Aapki Samajh Shunya Aur Soch Nil Hai jibe at Rahul Vaidya
This happened before the first finale of the show. Rubina Dilaik and Rahul Vaidya had started sparring at one another. Rubina was merciless as she poured spray on him.
📣 Bgs Raw is now available on TELEGRAM. Get the more different latest news & stories updates, also you can join us on WhatsApp broadcast ... to get exclusive updates!