Bigg Boss 14: Rubina Dilaik confirms that a destination wedding is on her mind; says, 'There will be a second wedding for sure'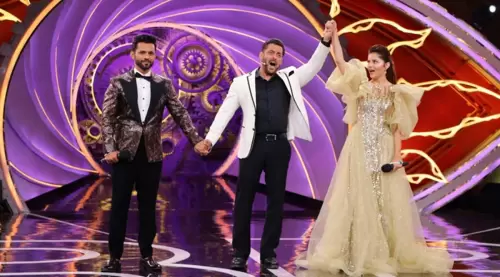 Rubina Dilaik is over the moon. The Chhoti Bahu and Shakti actress has walked home with the Bigg Boss 14 trophy and cash prize. But the bigger thing has been the renewed love in her marital life with Abhinav Shukla. The couple have ironed out all their differences on the show. Rubina Dilaik told The Times Of India that a destination wedding in on her mind. She said, "Abhinav's support made me stronger. When I won the show, he congratulated me, we hugged and kissed. It was beautiful to have him there with me. Ab main bas destination wedding ke baare mein soch rahi hoon (laughs). There will be a second wedding for sure, and a journey of a lifetime, which we had promised each other on the show."
We have seen that during the Valentine's Day date Rubina Dilaik told Abhinav Shukla that she wants a white wedding in the Caribbean. The couple got hitched in 2018 in Shimla in a dreamy ceremony. They had been dating for eight years. Talking about why she decided to open up on the issues in her marriage on national TV, Rubina Dilaik told Film Window, "The only intention was to tell people that issues are common in any marriage. Anyone can go through a bad patch, but what matters is how you can work on it to emerge stronger."
Praising her husband, Rubina Dilaik told Film Window, "He is the reason why I won this trophy. His support was with me throughout. I always have the confidence but I need someone to reassure me that I can achieve things. I feel a good life partner does that. Abhinav is that person in my life. In all humility, I will dedicate this win to him." She also thanked her in-laws. "When you have so much support from your families, you want to deliver your best for them," she says.
📣 Bgs Raw is now available on TELEGRAM. Get the more different latest news & stories updates, also you can join us on WhatsApp broadcast ... to get exclusive updates!