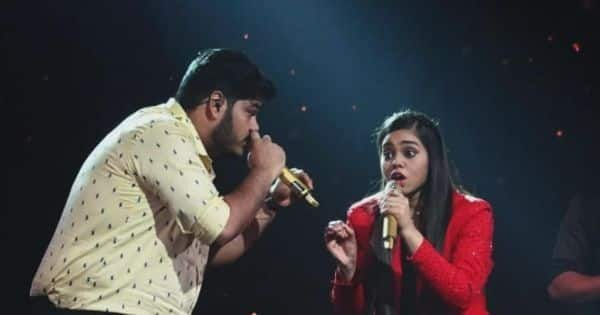 Indian Idol did a special episode for Shravan Rathod today. They had invited people close to him like Kumar Sanu, Anuradha Paudwal and Roopkumar Rathod on the sets. The theme was the romantic love songs of Nadeem-Shravan. Fans who have followed their work know they were the kings of music is in the 90's. Today, Shanmukhapriya and Ashish Kulkarni sang Humko Sirf Pyaar Hai in front of them. As we know, fans were upset with the Kishore Kumar tribute given last week. The show faced immense flak. People are still upset with Shanmukhapriya and her style of singing. Check out the tweets...
You have guts #IndianIdol2021 #IndianIdol2021 to even tweet her performance. Shes is talented her talent is to spoil any song given to her and give weird expressions . #Shanmukhapriya please be a empathetic towards humans and leave the show?. #Shanmukhapriya is a deadly wave

Vidit (@Vidit02751600) May 22, 2021
What a waste performance by Shanmukhapriya!! Spoiled the original song humkosirftumse pyaar h. Always yodeling pathetically to turn us off. Please someone kick her out. #IndianIdol2021 #SonyTV

Vaibhav Kakkar (@vkakkar1) May 22, 2021
Dear #ShanmukhaPriya

Bsss kr bhen rulayegi kya ?

Nikalti ku nhi tum overacting ki dukaan ?#IndianIdol2021 #IndianIdol12 #IndianIdol #KumarSanu #AdityaNarayan pic.twitter.com/h134G7anC6

?Yakshi? (@MPixieSoul) May 22, 2021
#IndianIdol2021 my request to Shanmukpriya..please kindly pass this message to her..she cannot torture us constantly ..no one should allow her anymore..yuck she is pic.twitter.com/AyURbzxI9J

ladly (@ladlydas2014) May 22, 2021
What can be said of a show where Nachiket and Shireesha are out, but Shanmukhapriya and the shouting brigade are still there?.....pathetic to say the least!#IndianIdol2021

Dr Suhas Naik (@Dr_SuhasNaik) May 22, 2021
#adityanarayan saying purposely and indirectly about #AmitKumar, Aditya should be ashamed of himself to talk @SonyTV #IndianIdol2021

jai shri ram (@Drmanikmathur) May 22, 2021
shanmukhapriya's yodelling is not at all melodious...its screaming and IRRITATING...her voice also keeps breaking...how cn judges not know this inless they themselves r not qualified enough to judge !! any other contestant is bearable#IndianIdol2021 #ShanmukhapriyaScreaming pic.twitter.com/L5RT3risDQ

Mamta S "* *" (@s_mamta9) May 22, 2021
indian idol judges never say bad to any singer , how is it possible? All are so perfect? Seriously, no one made any mistake ?& That stupid sharmukh priya , she is destroying the original, the greatest songs , & no-one stoping her ? shameful .. seriously. #IndianIdol2021

Aaj25 (@Aaj2510) May 22, 2021
#IndianIdol2021 team just proved that the show is scripted and every word by #legendamitkumar is true. No show is greater than #legendkishorekumar dear Aditya it's ok 2 accept the truth .

Rajashree Chatterjee (@RajashreeChatt4) May 22, 2021
Shame on you #AdityaNarayanan and #HimeshReshammiya

You are not even .0001% of Amit Kumar#IndianIdol2021 @SonyTV

Gagan Deep (@ergagan59) May 22, 2021
Absolutely...the makers of the show love negative publicity I guess.. didn't like this attitude #IndianIdol2021 and the contestants clapping on that..Amitji is a much senior member of the industry and they are just beginning..not good https://t.co/KUmAAjOnmC

Kavya (@chinkib) May 22, 2021
We can see that fans are very upset and have even slammed the makers on thriving on negative publicity. What do you feel about the whole fiasco?