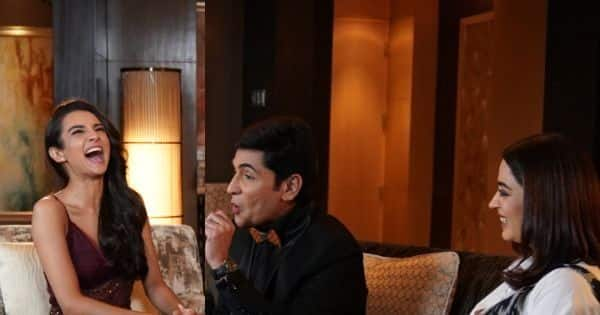 As A Table For Two gets into the business end of its second season, host Ira Dubey is raising the stakes with her guests in terms of fun, frolic, gossip, secrets, spice, sass and everything in-between. And she couldn't have got two better guests to fulfil this criteria on the ninth episode than the Bhabhji Ghar Par Hai pair of Aasif Sheikh and Nehha Pendse. With the two veteran actors knowing each other pretty well from their time on the sets of the landmark TV show, coupled with the sheer amount of years they've given to the industry, the scenario was ripe for the picking, and Ira Dubey has picked the living daylights out of it.
The ninth episode, which premieres today, May 23, on ZEE5 Global, begins with a bang, courtesy Nehha Pendse revealing if she's intimidated to work with the veteran Aasif Sheikh in Bhabhiji Ghar Par Hai. The trio then move on to Nehha revisiting her days as a child actor and Aasif reminiscing how he thought acting wasn't his cup of tea after his first audition for the TV serial, Hum Log, (incidentally, India's first TV show ever, even before Ramanad Sagar's Ramayan), which he ended up getting. He then reveals how perfectly normal it felt for the former to replace Saumya Tandon in Bhabhiji Ghar Par Hai while Nehha shares how difficult he finds it to manipulate her since she doesn't react like Saumya. Moving ahead, Aasif discloses his favourite co-star and Nehha reacts to winning an award for the worst actress, and it's all a total blast. Check out the exclusive sneak peek of the episode below:
It certainly looks like the next episode of A Table For Two is a complete package, brimming with everything you could imagine on a talk show, and then some. So, miss it at your own accord. Don't forget to catch the complete ninth episode of A Table For Two Season 2 on ZEE5. The show, which has been shot at the Hyatt Regency, Mumbai, is also available globally, across linear international channels Zee Cinema Middle East, Zee TV Middle East, Zee TV APAC, Zee TV UK and Zee TV SAF. It's also streaming on ZEE5. For more scoops, follow the Instagram Handle @atablefor2s2.