Table For Two Season 2 Episode 8: Amrita Puri reveals her secret crush; Sumeet Vyas talks about the one show that changed his life on Ira Dubey's show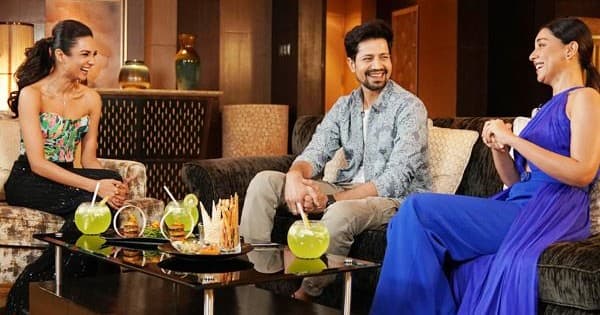 With A Table For Two now reaching a stage where the wait for each new episode has become unbearable, host Ira Dubey has got two young, refreshing talents to spice things up this time around. And with the trail her guests have been leaving of late on OTT platforms, we certainly are interested to see what they bring to the proverbial "table". We're referring to Amrita Puri and Sumeet Vyas, two actors whose strong bond we were clueless about until Ira Dubey decided to unveil it on her chat show. The stories her guests share certainly makes us want to personally thank our intuitive host for once again getting her choice of jodi spot on.
The eighth episode of A Table For Two Season 2, which premieres today May 16, on ZEE5 Global, has Sumeet Vyas opening up about how the acting bug bit him because of watching his father's plays while Amrita Puri jovially recalls how her father, being one of the smartest men in the country from the banking sector, kept persuading her to not get into acting. How she finally convinced him is something that can help you get your way with your parents as well. Both actors also reveal the high points in their careers, that changed everything for the better. But it is during the rapid fire round that their truest feelings come out. Sumeet reveals something interesting when Ira asks him a tricky question around getting an award at an award ceremony, while Amrita Puri lets out her feelings for Bollywood's hot hunk Aditya Roy Kapur. Check out the exclusive sneak peek of the episode below:
It's evident that the next episode of A Table For Two Season 2 will be a total blast from start to finish, laced with fun revelations and exciting anecdotes. Don't forget to catch the complete eighth episode of A Table For Two Season 2 on ZEE5. The show, which has been shot at the Hyatt Regency, Mumbai, is also available globally, across linear international channels Zee Cinema Middle East, Zee TV Middle East, Zee TV APAC, Zee TV UK and Zee TV SAF. It's also streaming on ZEE5. For more scoops, follow the Instagram Handle @atablefor2s2.