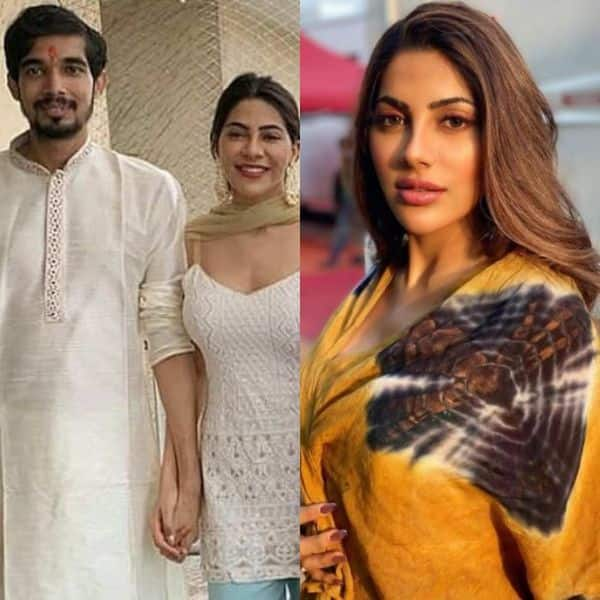 Bigg Boss 14 finalist Nikki Tamboli is currently shooting for Khatron Ke Khiladi 11 in Cape Town. She is going through a tough phase as she lost her brother a month ago. Nikki's brother Jatin Tamboli due to COVID-19 complications. He was suffering from health issues since a while. He contracted COVID-19 and got pneumonia. It seems one of his lungs collapsed. It has been a tough decision for Nikki Tamboli to leave her folks and come on for Khatron Ke Khiladi 11. She has now shared an emotional post on Instagram on her brother's one-month death anniversary. She wrote a heart-breaking poem about watching him suffer and fade away.
She captioned the note saying, "It's been a month today Beloved brother Our hearts still ache in sadness & secret tears still flow, what it meant to lose you, no one will ever know." Nikki Tamboli's friend, Rubina Dilaik commented on the post and wrote, "your dada is resting in peace ! And he is watching you ?...... Make him proud" Take a look at her post here:
Earlier, Nikki had shared a post about her brother and later deleted it. In her deleted post, she wrote that while her family wants to be strong, she is struggling. The deleted post read, "I miss my brother so much and I am sobbing myself to sleep almost every night. Few people whom I know tell me that it was his time to go and I should be glad he's not in emotional pain anymore and not sick anymore and that I have to let him go but my mind doesn't want to accept that." She further wrote, "I just want to be able to talk to my brother and when I say this to my friends they say to me that I still can, but it's not the same They are not understanding or listening to how I am feeling." The note further reads, "I kind of felt like my brother's sister and mum. My mum and father just keeps saying I am the strong one in the family and she could have never gone through my and she excepts me to be doing ok and feeling strong now. I don't feel strong at all now. I feel like everything is too hard and I just feel each day is difficult to live. I haven't accepted my brother's death."
---
❝ Happiness is not in money but in shopping.
Check Best Deals Today on Amazon IND ❞