Yeh Rishta Kya Kehlata Hai has a massive fan following. The show is running since 2009 and is still one of the most watched shows with good TRP ratings. Shivangi Joshi and Mohsin Khan's sizzling chemistry in the show has become the talk of the town. There are so many fan pages of #Kaira on social media and they have a crazy fan following. It became impossible to imagine the show without Kartik and Naira. However, recently, we saw a huge change in the story where Naira's character ended. People were disappointed with this and even demanded a ban on the show. Shivangi Joshi returned to the show with a new character of Sirat. As usual, she nailed even this character. Sirat's entry post Naira's exit came as a relief for fans.
Just like Kartik and Naira, Mohsin Khan and Shivangi Joshi once again created magic on-screen as Kartik-Sirat. Shivangi Joshi as Naira was brilliant and now as Sirat is winning hearts. However, with Sirat's entry, there are many who are not happy. People want Naira back in the show. They want Kartik and Naira's love story to continue. #Kaira had become an emotion and hence people are attached to this jodi. But Kartik and Sirat are also making a place in everyone's heart with their adorable scenes. Hence, earlier, we had asked fans which character of Shivangi Joshi amongst Sirat and Naira in the show is their favourite. Fans have now given their verdict and we aren't surprised that they have chosen Naira. Yes, 91% of people have voted for Naira while Sirat got just 9% of votes.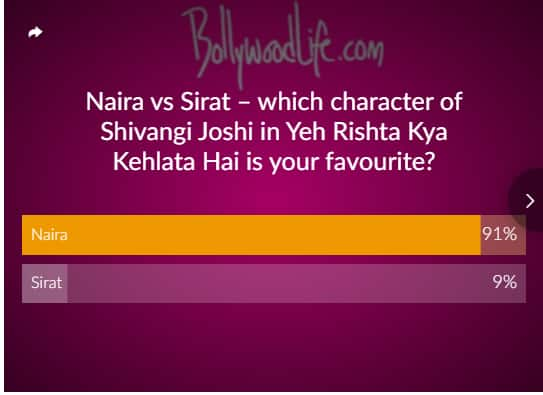 Undoubtedly Naira was close to everyone's heart and Shivangi Joshi was just amazing as Naira. Just like fans, even we wish to get back Naira in the show as #Kaira magic makes the show even better.
---
❝ Happiness is not in money but in shopping.
Check Best Deals Today on Amazon IND ❞