Kriti Sanon's 31st birthday is extra-special as her newly-released movie 'Mimi' is receiving positive reviews mostly.
Today, on this special occasion, we're here with a funny anecdote from her 'Raabta' movie sets.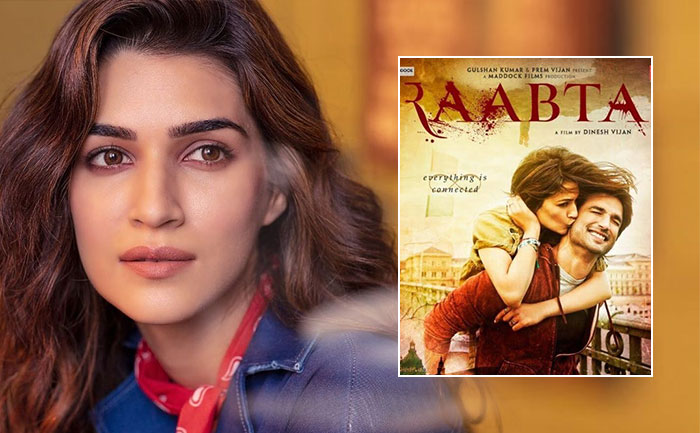 Directed by Dinesh Vijan, 'Raabta' (2017) created a lot of buzz for the sizzling chemistry between Kriti and late actor Sushant Singh Rajput. The movie also starred Jim Sarbh, Rajkummar Rao, and Varun Sharma in pivotal roles.
The actress played a double role– a modern girl 'Saira' and a warrior princess 'Saiba'. Did you guys know the crew members once thought Kriti was possessed during the movie shoot?
Confirming the same, Kriti had revealed in an interview that she was shooting an intense scene with Jim in a mansion, and before every take, she used to scream her lungs out.
According to the actress, it helped her to get into the zone, both physically and mentally. Later, she came to know that the entire crew thought she was 'possessed'.
"In 'Raabta', we were in a mansion and there was an intense scene between me and Jim. Just before the take, every time, I used to scream my lungs out. It releases a lot of energy and makes me get into the zone, both physically and mentally. It was funny because Dinoo (director Dinesh Vijan) told me later that the crew thought I was possessed," she told HT.
"For me, I think of what the character must be feeling before a scene and in that moment. For intense scenes, depending on the scene, I sometimes just walk really fast or listen to a particular song that puts me in that zone," Kriti added.
Though the movie apparently failed to create a stir at the box office, Sushant-Kriti's jodi was much appreciated.
The post THROWBACK: When 'Raabta' Film Crew Thought Kriti Sanon Was 'POSSESSED'! first appeared on Instant Bollywood.