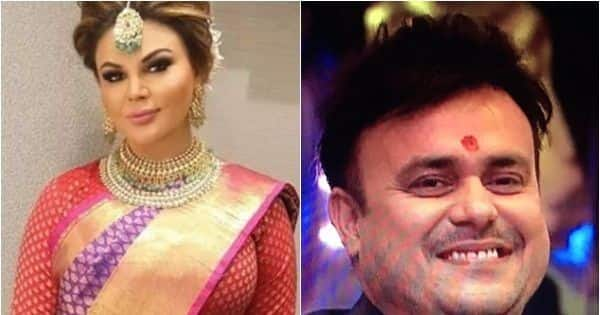 Rakhi Sawant finally ended all the curiosity around her mystery husband Ritesh after they made their first joint public appearance inside the Bigg Boss 15 house. "Toh main aagayi hoon aapne pati Ritesh ko lekar (So, I've come along with my husband Ritesh)," Rakhi said while standing in front of the camera.
Dressed in a red saree, Rakhi danced on Madhuri Dixit's number 'Mera Piya Ghar Aaya' before Ritesh's entry. In a few moments, the doors to the 'Bigg Boss' house opened and Ritesh stepped in the house wearing a sehra (headdress worn by an Indian groom). Rakhi welcomed her better half with a puja thali as Ritesh finally revealed his identity on the show.
Before touching his feet, Rakhi was seen telling Ritesh, "Aapka welcome hai. 12 mulko ki police aur puri desh ki janta aapka inteezaar karrahi hai (You're welcomed here. The police of 12 countries and the entire nation is waiting for you)." All the housemates addressed Ritesh as Jiju and entertained him to the T.
Later, Ritesh and Rakhi talked about how they met and love blossomed between them. Ritesh revealed that when he first texted Rakhi, he got blocked and then later went on to text her again after a certain period of time and got her talking. He also said that it was Rakhi who proposed him for marriage and they ended up tying the knot.
Rakhi revealed that they got married 2 years ago and when the nationwide lockdown was imposed due to Covid-19, Ritesh stayed in London and Rakhi went on to participate in Bigg Boss 14. Now that Ritesh has finally come to the fore, Rakhi was elated to introduce him to the housemates.
Viewers also loved watching Rakhi and her husband Ritesh entering the show together and enjoyed his banter inside the house. Ritesh has joined Rakhi, Rashami and Devoleena as the 4th VIP member of the house.
Take a look.
#rakhisawant ke husband ritesh ne kya bola h be promo main ????

Wah wah ek dum kaddaakk chha gaye ?

Umar ki bajadi sahi point dala ritesh e??

Kal se #BiggBoss15 firse dekhna chalu ?? #bb15

(@Pri_9892) November 26, 2021
Today best wild card has entered the show in history of bb.

That is rakhi Sawant husband Ritesh #BB15 #pratiksehajpal

KASHIF (@KashifSharieff) November 26, 2021
Watching #RakhiSawant and her husband is fun...#biggboss15

Anza Khan (@ianzakhan) November 26, 2021
If this is not any drama, and Ritesh is really her husband,I feel happy for #Rakhisawant.

Anurag (@Anurag43174851) November 26, 2021
I think I enjoyed every minute of this episode. But to give Ritesh the VIP position just cos he is #RakhiSawant's husband? ?

Not fair!

The other three I understand are ex contestants & have earned it, but him? #BiggBoss15 #BiggBoss #BB15 #BiggBoss15OnVoot #BB15LiveFeed

BiggBoss_LiveFeed (@BB15LiveFeed1) November 26, 2021
Maine last year rakhi sawant ji ke husband ka interview suna tha, vo bohot he intelligent or sorted person hai....

I hope unki dosti Shamita ji se ho...#ShamitaShatty #ShamitalsTheBoss #ShamitasTribe #OrmaxMedia #VootSelect #colours #BigBoss15

Sucheta (@BishtSucheta) November 26, 2021
Finally Dekh liya?

I was so curious to see Rakhi's husband?

Btw he looks so sidha-sadha

Ye pakka #RakhiSawant Ka husband #Ritesh he h na ??#BigBoss15 https://t.co/YTK0Y37C8c

NaazWillRoarlouder ? (@SanaBadass_Gill) November 26, 2021
And here is #RakhiSawant ka husband #Ritesh

The 4th vip in #BiggBoss15 #BB15 pic.twitter.com/B2exDFqAhc

Nothing Serious (@skinny_naagin) November 26, 2021
Keep watching this space for the latest updates on Bigg Boss 15.
---
❝ Happiness is not in money but in shopping.
Check Best Deals Today on Amazon IND ❞